Initially, sustainable printing was more or less a buzzword. However, the reality of our negative environmental effects stares us in the face. Now, sustainable Denver printing companies have adopted sustainable practices and processes to make their companies eco-friendly. This brings us to the focal point of this article – printing businesses in Denver that adopt eco-friendly practices while staying in business.
Before discussing these businesses, you need to understand the concept of sustainable printing, reasons to practice sustainability, and popular sustainable printing practices.
Sustainability is a primary concern in the world today. It's getting even more disturbing as the global population has spiked recently. According to the UN, if the population hits 9.7 billion people by 2050, it will take about three planets full of resources to sustain our lifestyles. That's how crazy it is. Environmental sustainability is a big ask, but it's necessary for the Earth's survival, and every person and industry has a role to play in this. This includes the print industry as well.
Millions of trees are being mowed down annually to make paper products for printing presses and apparel for clothing brands. How long until there are no trees left? This is a food for thought.
The Concept of Sustainability Printing
The concept is simple. It involves printing practices or methods that results in minimal or zero environmental degradation. It involves companies using solar power and recyclable resources to produce printed material. Sustainable printing leads to reduced environmental waste and utilizes green energy for zero carbon footprint. Now that you know what sustainable printing is, you should know why companies are adopting eco-friendly practices.
Reasons Printing Businesses Adopt Sustainable Practices
Environmental Preservation
The Earth is the only home we have, and if our industrial practices make it uninhabitable, that could mean the extinction of the human race. Though companies are all about profit-making for the most part, business people are still humans, so they should be conscious of the negative effect their activities are having on the planet.
Improved Efficiency and Productivity
Research shows eco-friendly printing companies are more efficient and productive than their non-eco-friendly counterparts. This means sustainability in printing is not just good for the community and the planet; it's also good for businesses as well. Improving printing efficiency and productivity is another reason printing companies find it an appealing option.
Larger Clientele
With the buzz that sustainability is making in the print industry, it's no surprise that a company that offers eco-friendly printing services will attract more clients than a company that provides conventional printing services. This is a fact with data to back it up. Two surveys by Business News Daily and Millennial revealed that 66 percent and 75 percent of their respondents would rather patronize an eco-friendly printing firm than a conventional printing brand.
For the above reasons, there's no reason for printing firms to hold on to conventional practices which are damaging the environment.
Printing Practices With Zero Carbon Footprint and Environmental Impact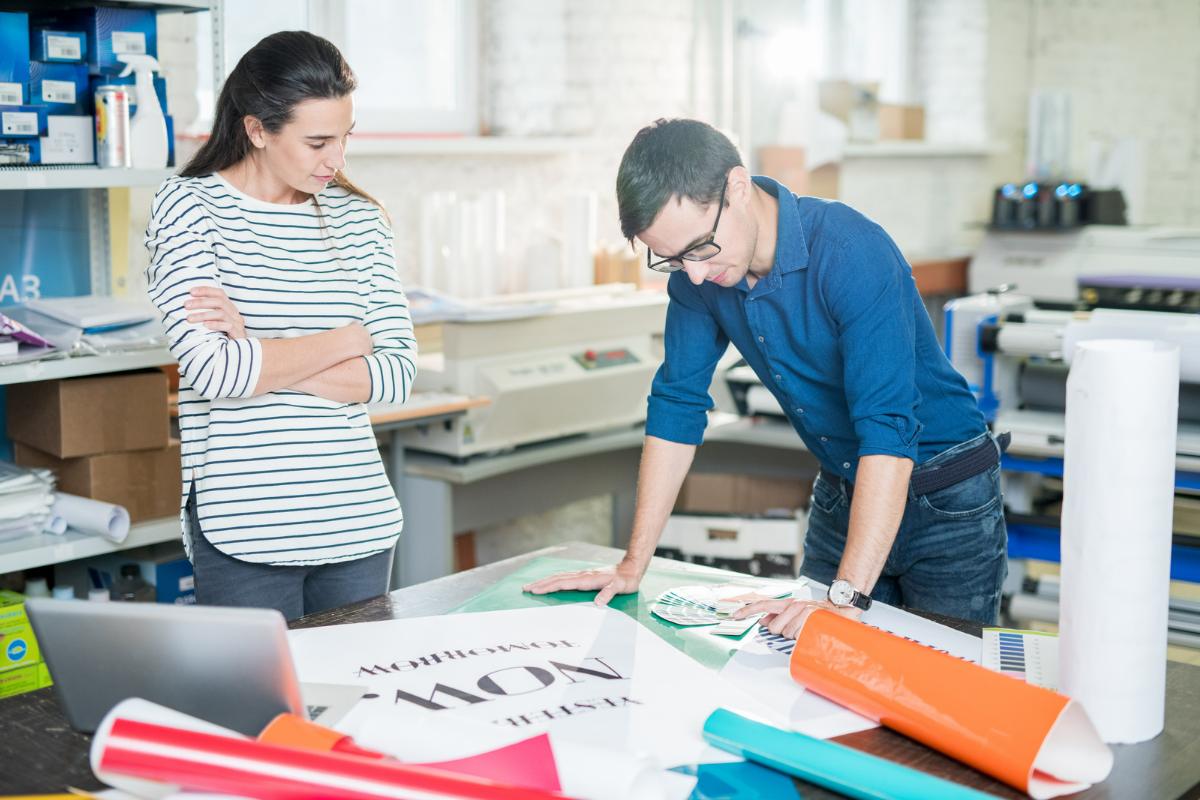 UV Printing
This form of printing utilizes a revolutionary technology known as ultraviolet curing, which uses ultraviolet light to dry ink. This process happens within a few seconds, which is considerably faster than conventional printing that relies on heat energy to dry ink. The shorter duration is not what makes it sustainable, but the fact that UV printers consume 20% less ink than conventional equipment.
Ink is not only the resource these printers are known for saving, but it also consumes less energy. It has an instant on-and-off function that reduces standby power consumption and effectively reduces carbon emissions.
Carbon-balanced Printing
Carbon-balanced printers are becoming an appealing choice in the market because of their ability to offset the carbon dioxide produced during the printing process and delivery. There are even sustainable products such as carbon-balanced papers. Carbon-balanced printing is one of the most sustainable solutions because it involves resources from sustainably managed forests.
Digital Printing
Digital printing is one method that doesn't require a printing plate. The prints, which can be in the form of PDF or desktop publishing files, is directly applied to various media substances such as canvas, paper, cardstock, or even clothes. Digital printing presses have become very common, and this has significantly helped. Like UV printing, it emits fewer carbon emissions than traditional printing methods, and many digital printers are carbon-neutral. This means that they totally offset the carbon emitted from the printing process.
Also, because it doesn't use printing plates, it has less waste. Printing plates, like many products, depreciate with time and, at some point, will need to be discarded. Then, new printing plates are gotten and, after some time, disposed of. It's an endless cycle of environmental waste that digital printing prevents.
Using Sustainable Inks
Eco-friendly inks are sustainable products that can enhance printing efficiency. Research has shown that about 4 billion kilograms of ink is used on an annual basis for printing practices around the world. This equates to about 800 million kg of petroleum-based pigment. An eco-friendly ink doesn't include this pigment but substitutes it with natural materials such as vegetables. An excellent example of such ink is Soy ink which is widely used by some renowned names, including USA Today, New York Times, and Los Angeles Times.
An alternative option is using ink that algae were used to create. Colorado State researchers developed it. An added advantage is that this plant doesn't require herbicides, fertilizers, and genetically modified seeds to be cultivated. The only downside to this development is that ink colors will have a limited variety. However, this hasn't stopped several organizations from adopting the process.
Environmentally Friendly Printing Companies in Denver
Aside from being a thriving city in Colorado, Denver is also home to many sustainable printing firms. Some of them include;
Superior Ink
Superior Ink is the first and only screen printing company in Denver to earn "Certifiably Green Denver" certification. It was co-founded in Allmade, and to date, it has saved over 6.2 million gallons of water, 59, 200+ kilograms of carbon dioxide, and over 18,000 pounds of recycled plastic.
Denver Print Company
Denver Print Company is an A+ rated company. In 2022, Expertise.com awarded it "Best Printing Services in Denver." The company came into existence in 2008.
Ultimax Inc
Ultimax has been in business since 1994. It has a catalog of sustainable products, including bulldog boards, xanita, falcon-boards, terralon, etc.
Arc Printing Services
ARC is a global brand with more than 200 locations across the world. It is collaborating with an NGO in a Print & Plant program, a tree-f0r-tree reforestation effort. So far, the company has printed more than 6,600 trees.
Other Sustainable Practices
Ordering printing resources in bulk
Bulk orders are great in reducing carbon footprint because it reduces the number of deliveries to the company, which means less carbon emissions from the logistics vehicles as well as reduced waste. This can be executed easily with good inventory management.
Recycling or Selling Old Equipment
Printers are usually discarded when they've been used for a while, and a newer model is out. However, companies should be prudent. Replacing the printers should only be necessary if they're no longer functional, have exceeded their lifespan, and are beyond repairs or maintenance. When their printers are to be disposed of, it should be done at recycling centers. This will result in less environmental waste.
Alternatively, these printing brands can return the printer to the manufacturer for an upgraded version or sell them if they still work. The final option is to sell off its parts.
Reusing Designs
More designs mean more printing plates and ink, which is particularly wasteful. Printing firms can reuse previous designs with little changes made to them.
Automating Workflow
Automating workflow optimizes the printing process, meaning less waste, errors, and minimal utilization of resources, including energy, materials, and manpower. Workflow automation aids printers in fitting a print design on a sheet the same way it will fit on many sheets.